The Sharehouse
Water Damage Journal, December 2006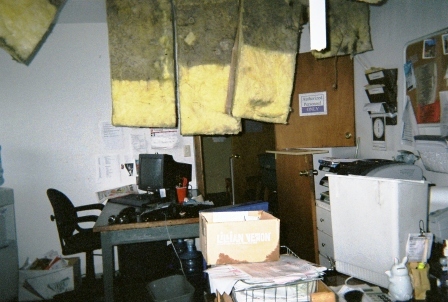 The Sharehouse Office: Water-logged insulation hangs from the ceiling.
On November 30, 2006, during sub-freezing weather, a water pipe at The Sharehouse broke, allowing water to flood the following key areas of the facility:
office (containing computers, photocopy, and fax equipment)

waiting room/reception area

linen storage area of the warehouse
Water damage to these areas was extensive, both to the structure and to the contents.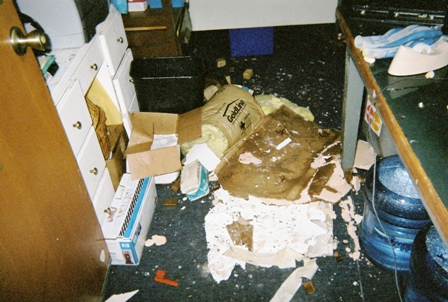 The Sharehouse office suffered the greatest damage.
The good news was that there was no damage to furniture and most household goods in the warehouse. All the linens, including blankets, sheets, towels, and pillows, however, were ruined.
The Sharehouse was closed for all services November 30 - December 8 and was not be able to schedule pick-ups or recipient appointments.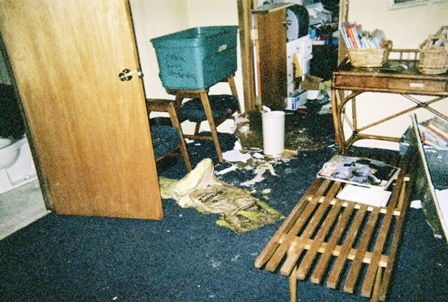 The Sharehouse waiting room sustained extensive damage.
On December 6, 2006, The Sharehouse staff was able to access the building again and to make plans for resuming services on a limited basis. A work crew began to make repairs to the structural damage of the building.
By December 11, 2006, The Sharehouse moved fast to resume services by beginning to receive drop-off donations. Repair work continued on schedule.
By December 18, 2006, nearly normal services were resumed including resumption of furniture pick-up services and normal drop-off schedules. Warehouse appointments for recipients were resumed.

The Sharehouse warehouse: While most of the warehouse (which contains furniture and other household goods) was spared, one corner was heavily damaged.
Recovery is ongoing. We continue to need your support. The Sharehouse is a critical service for more than 60 agencies working with homeless families and individuals in Seattle and King County. You can help us with a tax-deductible financial gift to The Sharehouse. (Please note that The Sharehouse is solely responsible for its own funding.)